Pro Account Deactivated/Deleted, Now Banned, No idea why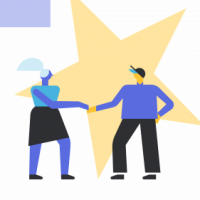 Hi, I don't understand what is happening. I recently started revamping my Pro account, and I received an email that it is now "on hold" because I'm offering services not allowed on Thumbtack.
I'm offering massage therapy, private yoga lessons, and guided meditation. As far as I can tell these are all categories that are fine, and when I search Thumbtack, I see plenty of individuals offering these services.
I really have no idea what is going on here.
The email said I need to update my account, but even though it says my Pro account is on hold, I can no longer find it when I log in. It just goes to my customer account and there's not drop down to switch to Pro. I sent an email to [email protected], and they said it was active, but I still can't find it, and I think maybe they were just referring to my customer account.
Further more, I made a post about this, and I did see there was a reply, but now when I search it seems my post has been deleted, and my account has been banned from this community support. ** This is a new account I just created specifically to get help on this subject.
As far as I can tell, so long as I can't help any feedback on what is going on, I have to accept that I can no longer use Thumbtack for my business. It has been very valuable to me, and I used it to collect reviews from customers, but now everything is gone, and I don't know how to fix it.
Please advise and thank you for your help!
Screenshot of when I tried logging into Thumbtack Community>>
Comments