How could Thumbtack improve the galleries/featured projects functionality?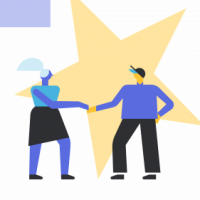 I am a muralist, and the ability to upload and showcase images is key for people to really understand what I do. I feel the platform has evolved to include more types of industries, but with visual mediums, there has to be a better way to showcase a project better.
Currently the UI is very cluttered and not very intuitive, and on the Pro side, the fact that you cannot rearrange photos after they are uploaded is rooted in to early 2000's technology.
I would love to have a true gallery for each project that is easy to navigate, and understand exactly what it is and to have the ability to move the sequence of photos shown.
I find that the photos section are just a jumbled hot mess with no context, and featured projects work ok, but are just not good at being an easy to use and understand system. What else could/should be improved on the site to help Pro's get a better representation?
Comments