Message for all the engineers and architects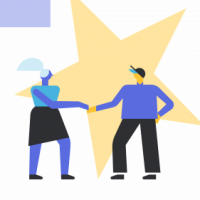 I am finding that this mandatory "$0/on-site estimate" thing is confusing the customer. People are expecting a free consultation. I had three just in the first three days this week. "The app said this was supposed to be free."
Nobody works for free. No engineer or architect that I know of will walk through a property and consult about a project and its budget without setting up an agreement first. I had one customer plead with me "but I just need to know an estimate of how much the repair work will cost so I can decide whether to buy the property or not, and the app says that's supposed to be free."
I can give you a free estimate of what I will charge, but no way will I drive to your property, unpack your problem, come up with a solution, provide you with a budgetary estimate, and walk out of there without getting paid.
To protect yourselves, never agree to go out to a property without making the client acutely aware that your service is not free.
Another troubling new feature is the instant booking requirement. I leave a small smidgen of time open each day, then when we connect, I steer them to other options. I live in a long, thin state, and in no way shape or form will I ever let Thumbtack mess with my route planning.
Thumbtack didn't think these things through. That, or they simply don't care.
Comments