Thumbtack and the help i never received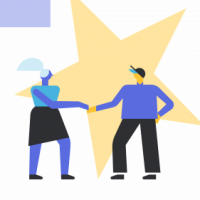 I contacted the Thumbtack company last Thursday and talk to a lady who explained to me that Thumbtack was a great way to get in front of customers and connect with those needing help with there projects they want to get done.
She went on to explain 9f i bought $300 worth lead to purchase leads iny industry from customers needing a pro to compete a job for them and that if i bought thos $300 package id receive another $100 from Thumbtack as well as a professional person from Thumbtack to walk me through the process of setting my account an help guide me through how it works as well as how i set up purchases of leads to get in front of tje customers tjat need my services and would be someone their to helpe with this aalong the way since i never did this before had no clue what i was doing.
So i trusted thos lady to be a Professional with Thumbtack and what I was told would happen an id be treated like a person who was not familiar with websites or how it all worked so i was 100% trusting that tthis would be how it would go
I paid for $300 package and once i paid for it qn was told someone would either contacte or i could request some help an someone would help me.
I purchased it Last Thursday and when i went to finish the Account and set it up i kept running into the issue of no one would help me an i was told that the Person who sold me my Package wasn't available to leave her a message and someone else would contact me .
No one did Thursday so Friday i called at 9:00 am an was told someone would contact me
No one did so at 12 thats 3 hour's later an again wasnt helped set up my account but was only told call back later and ask for her so didnt get helped an at 4 when i called no one answered so they were closed all weekend and come Monday i contact Thumbtack to get help an itturned into a person telling me how Thumbtack worked and how by paying them $300 that its basically for advertising and they dont promise to get me work an that they gete in front of customers an that all weekend i was paying anywhere from $8.00 for a lead to $55.00 for a direct lead that matches my work i do an that it was up to me to close the deal with them but i never new anything about thos because no one from Thumbtack ever helped me set up my Account so i didnt know whar was or wasnt happening an by this time my account had been hit for more than $200 for leads that i had no control over or new was there or existed so i was told someone would calle an helpe get it worked ourj.
Come Tuesday no one called me so Wednesday i called qn was pretty much told i was at fault an that the purchase were valid
Has anyone else experienced thos frpm Thumbtack an not been helped , out.
I trusted i was going to be in good hands an helped along this journey with Thumbtack and I thought i was
Building a business relationship but i was wrong.
I was lied to and then told i was the one who was at fault for not knowing what to do or how it worked so nothing was done and im out #300
Comments