Open to suggestions for other dates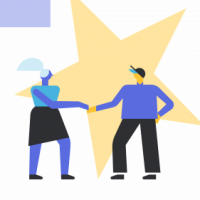 Thumbtacks app is currently set up so when a customer looking for a pro is filling out the form on their app when they get to the page where it asks what days they want the work performed there is a small box at the bottom that thumbtack has pre-selected for the customer that says "open to suggestions for other dates"
this box bypasses the pros calendar completely and doesn't even let the customer know that the pro has their schedule blocked to begin with.
is is then impossible to receive any refunds from these leads unless you can chase the customer around and actually get them to state in a message that they weren't planning on waiting that long and they wouldn't have selected you if they knew.
some customers don't want to deal with this.
I can't start out my first message to every single customer as hi "I'm not sure if you know but my schedule is blocked for the next three months so if you were planning on waiting for that long then I can help you but if you weren't please respond saying so, so that thumbtack will give me a refund"
these refund requests get automatically denied because thumbtack literally puts every single lead they send you as a "match" under their policy.
if you have received your two free "courtesy" refunds they automatically deny all requests.
i literally disputed a charge from a drunk woman and wrote that she was drunk and said she didn't even mean to do it it was for her friend and she was drinking… automatically denied lol..
I've been trying to get in touch with someone from management about this for months and they refuse to call, respond to emails, or be able to transfer to anyone in management through customer support