The new year 2023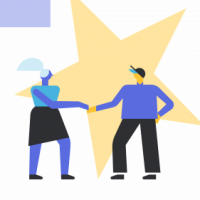 I am a Ballroom and Latin dance teacher, teaching at my private/home studio in San Francisco. I teach mostly couples getting married. I teach couples their first dance for their wedding. My business name is Fascinating Rhythm Dance School.
The last 13 months I have not been able to teach except a for few hours, because of abdominal surgery. I was recovering fine and then after 9 months, got another infection and had to have another surgery. Each hospitalization was lengthy, and because I could not get out of bed, I lost the ability to walk. I thought my teaching career was over, but I learned to walk again twice!
My goals for 2023 are to keep recovering and start to teach again, part-time at first and then full time as before.
I can only do this with the help of Thumbtack. Being out of work because of the surgery (and forgot to mention Covid restrictions) I can't afford pricy advertising. Thumbtack really works for me. I was able to "hide my business" when I was laid up, and "go live" when I got stronger. A great feature. Thank you Thumbtack!
Marge Gabbert
Comments