Account Deactivated (I didn't deactivate it and my reviews are impeccable.)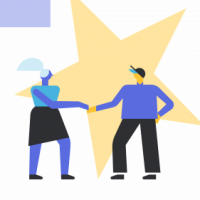 Hi I'm having an issue logging into Thumbtack. I originally created my account using the Apple button and I've been using it for over a year now with no issues. 
For the past couple weeks I noticed that I wasn't receiving any job request, which is very unusual but it was over the holiday, so I wasn't too concerned. 
Last week I opened the app and logged in like I always do, but I received a message stating that my account was deactivated, which I did not do. Immediately after, a pop up message was displayed, giving me two options
1.) Not Now
2.) Help Center
I visited the help center and followed the directions to reactivate my account via an email request. Someone replied to my email stating that the email address used for my account wasn't on file, which makes no sense. 
Please help, as I'm losing leads and business during this issue. 
Name: Stephen Lombardo
Email: [email protected]
Apple ID that Thumbtack Pro uses to contact me via email. 
Comments