Is it possible to send leads only to customers willing to ship their items to me?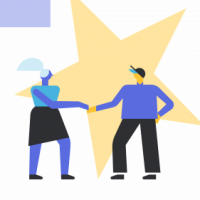 Hi,
I'm a Thumbtack Pro with a video transfer service that involves digitizing home video tapes from customers . I've started off covering my local area where customers can drop off their tapes in person and that's worked out fairly well. I've expanded my targeting preference to include other states and have picked up additional customers who mail their tapes to me.
However, there are many times when a lead goes out to a potential out of state customer and after they find out they would have to mail their tapes, they decide not to proceed. As a result, I am charged for that lead but it doesn't result in a job. Is there any way to have leads sent only to customers who are able to mail their tapes?
My profile and service description clearly indicate my location but potential customers only see this information after the lead has been sent to them and I am charged. I'm trying to limit leads to only customers who can mail their tapes. If anyone has suggestions on how this may be possible, please post a response.
Thank you!
Comments